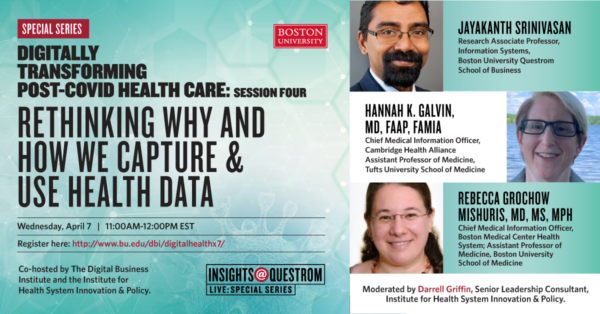 Session 4: Rethinking Why and How We Capture and Use Health Data
The U.S. health care industry has wrestled with issues largely solvable by digital transformation for the last 20 years. The COVID crisis uncovered these glaring issues as the industry is on the precipice of change.
In this 7-part webinar series from BU's Digital Business Institute and the Institute for Health Systems Innovation & Policy, experts dive into the history of the U.S. health care industry and uncover eight intricate problems to be addressed through digital transformation. Session 4 will discuss rethinking how and why we capture and use health data.
Wednesday, April 7 | 11:00-12:00pm ET
Click Here to Register
Upcoming Sessions
Session 5: Digital Transformation Impact on Health Care Inequities
April 21, 4:00pm EST
Session 6: Developing Your Digital Strategy
May 4, 11:00am EST
Session 7: Leading Health Care Digital Transformation
May 18, 11:00am EST